Around the cage they shouted for the King, Hector slapped his hand on my shoulder blade with a heavy bellow of a laugh, the type that would see his stomach jiggle for a millennia.
"Go'orn Tate, take him to the slab" Hector shouted from behind as I stepped into the oddly shaped ring, the flash of light reflected from a beer bottle as it sailed through the air above and collided with the steel barred lighting unit overhead. There was little to hear over the sound of the jeering and hollering around the cage, though my steely grey eyes had too much to do what with taking in the sexy sight of the promotion girl that strutted past in little more then a thong and bikini top.
They always told me to be a 'good lad' when I was little, who knows what might have happened if I had stuck around to do that. Memories eh…
Wiping a wrapped hand over the five o'clock shadow on my chin it was time, weight shifting as I bounce from foot to foot, the competitor approaching the ring.
Tate Kingston
29yrs
Mortal
Height – an even 6ft
Eyes – Grey
Hair – Brown
Personality
My ex calls me an arrogant so and so, but I prefer stubborn…gotta look out for yourself right? Because I'm not waiting for someone else to have my back. You might think im your buddy o' pal but I can guarantee you we won't be in the same place tomorrow. Simple thing is I like my space, I also like an occasional bed buddy but don't come looking if your all about long walks, pina coladas and getting caught in the rain. If you have something I need, be damned sure that I'll take it from you without asking.
History
So I don't remember a whole lot, well that's what I'll tell you no matter how many ways or times you ask. I don't like talking about my family, they aren't around and haven't been for years. I ain't got siblings so being a part of the brady bunch has never been my deal. As far as anyone knows, i'm just that guy who kicks some ass for cash.
For the most part I've kicked around, lived in a few places, punched a few people. I've had my share of knocks and gains but it ain't all that interesting.
More recently? Well that's an entirely different story. I'm sporting vivisection scars I can barely hide and inside I am shattered. My mind is haunted by things I can't unsee, horrors unimaginable but yet I can tell you they were real and even the softest of touches from another being makes me feel ill. I have escaped with the help of a few but I could not stay for long without feeling like I had to run. I've been running ever since that day, my heart rarely at ease and my eyes always open.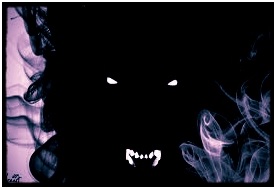 Wolf Form
They said it started after the children had gone to bed, the second night out camping and nothing but a small breeze all day. Slowly the wind grew and the father left to check that the tent pegs were secure. He had not been gone for more then two minutes when the sounds of tapping fell into eerie silence and then a long and low gravelly growl, a monstrous sound so horrid the children pulled their covers over.
He hadn't seen anything but a flash of white glowing eyes from the trees but it was too late. His screams filled the air as a spray of blood slapped unceremoniously against the material of the tent. The growl muffled as the father was pulled across the embers of the campfire, remains dragged into the darkness of night.
We have no evidence of the culprit, though with the devastation left behind and traces of charred ground towards the bushes I can only presume we are looking for something other-worldly.
species: Grey wolf (genetic mix of black coated mongrel
Age: 4yrs
Weight: 78Kg
Length: 55'
Scent: smouldering ash
Voice: Low in tone and husky, sometimes gravelly
Birth season: Autumn
Group: Rogue
Alignment: Chaotic Evil (1)
Powers: (more to develop as Tate rarely uses them)
Element of control: Fire
Shadow teleportation:The ability to dissipate and move over short distances using shadows, dependant upon sources of dark
Weaknesses and Strengths
Elemental abilities are hampered in severely low weather, the body of the animal slowing in natural need to hibernate, culminated with the natural repulsion of fire and ice elements.
This creature in both forms is mere mortal and inflicting wounds will take time to heal.
Fortunately he walks in a prime physical condition, keeping at optimal health and routinely participating in combat when in the city. His fitness level ensures stamina and agility with trained strength supported by a natural instinct to strive until victorious.

Latest Information
Last seen at a river outside the city of arcane where a brief interaction occurred with a female. Having trouble coping with the experience of Oxen corp captivity Tate disappeared until now, turning up in unknown lands and not one hundred percent physically and mentally. Having briefly become friendlier, his time in ox corp has deteriorated his want to interact with others, restoring the chaotic evil nature of his character.